​
Bastille Day'23
A taste of France in Lithuania
Tickets for this Event are Sold Out
​

Are you ready to celebrate the French National Day?
This event, celebrating France's National Day, is open to all (in the limit capacity of the venue).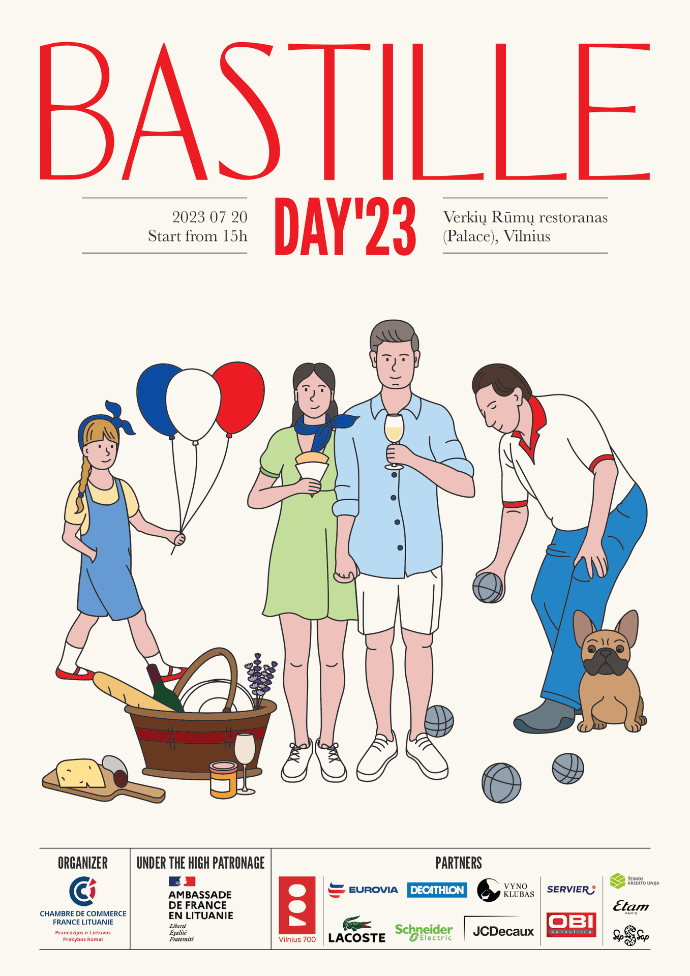 Dear Members, Partners and Friends,

The French-Lithuanian Chamber of Commerce takes immense honour in inviting you to an afternoon of revelry and cultural fusion as we celebrate France's National Day, Bastille Day! Immerse yourself in the spirit of freedom, equality, and fraternity as we bring together the finest elements of French traditions under one venue.

This event is organised under the high patronage of the French Embassy to the Republic of Lithuania.

What to expect:
Gourmet French Delicacies
French Beverages
Cultural and sport activities
Music
A French vibes
Who can attend:
The event is open to everyone, we kindly ask you to register as we have a limit capacity. 
"Join us on this special occasion, as we bridge cultures, strengthen bonds, and 
celebrate the enduring friendship between France and Lithuania. 
Let's raise our glasses and cheer for unity, prosperity, and cultural exchange!"


Dress code: blue, white, red
Time: 3:00 pm – 7:00 pm
Date: 20 July 2023
Location: Verkiai Palace Park, Žaliųjų Ežerų str. 49, Vilnius
​
Bastille Day: A vibrant celebration of freedom and unity, inspiring a powerful sense of cultural heritage, commemorating history, embracing diversity and inspiring a shared vision of freedom for all.

➡️ More about Bastille Day

​
Due to the NATO summit, the celebration of Bastille Day (14th of July) has been postpone by a week to the 20th of July.

Would you like to sponsor, run a stand or provide entertainment at the celebration?
An address must be specified for a map to be embedded
GDPR: We process data in a responsible manner. Confirmation of your participation in this event is an expression of your consent to the possible processing of data and be added to our communication list. We would like to inform as well that photography and/or filming will take place during the event. By entering the event premise you agree to be filmed or photographed which may be used for marketing or promotional purposes.